Don't miss your chance for a Melbourne Cup country retreat!
The excitement of the Melbourne Cup 'long weekend' is just around the corner, and we've crafted a collection of unforgettable experiences, just waiting for you to explore and enjoy.
Explore our new listings, indulge in Scandinavian style, and watch the big race at some of our favourite local pubs. For a deeper dive into our Melbourne Cup 'long weekend' offerings, scroll down to read more.

Book a 'Long Weekend' – Your Perfect Retreat Awaits!
If you can arrange to take Monday off, you're in for a treat during the Melbourne Cup 'long weekend' with a public holiday on Tuesday 7th November. It's the perfect opportunity to enjoy a relaxing 4 day weekend in Daylesford. Don't miss out on securing your spot!
Check availability the Melbourne Cup 'Long Weekend' here >>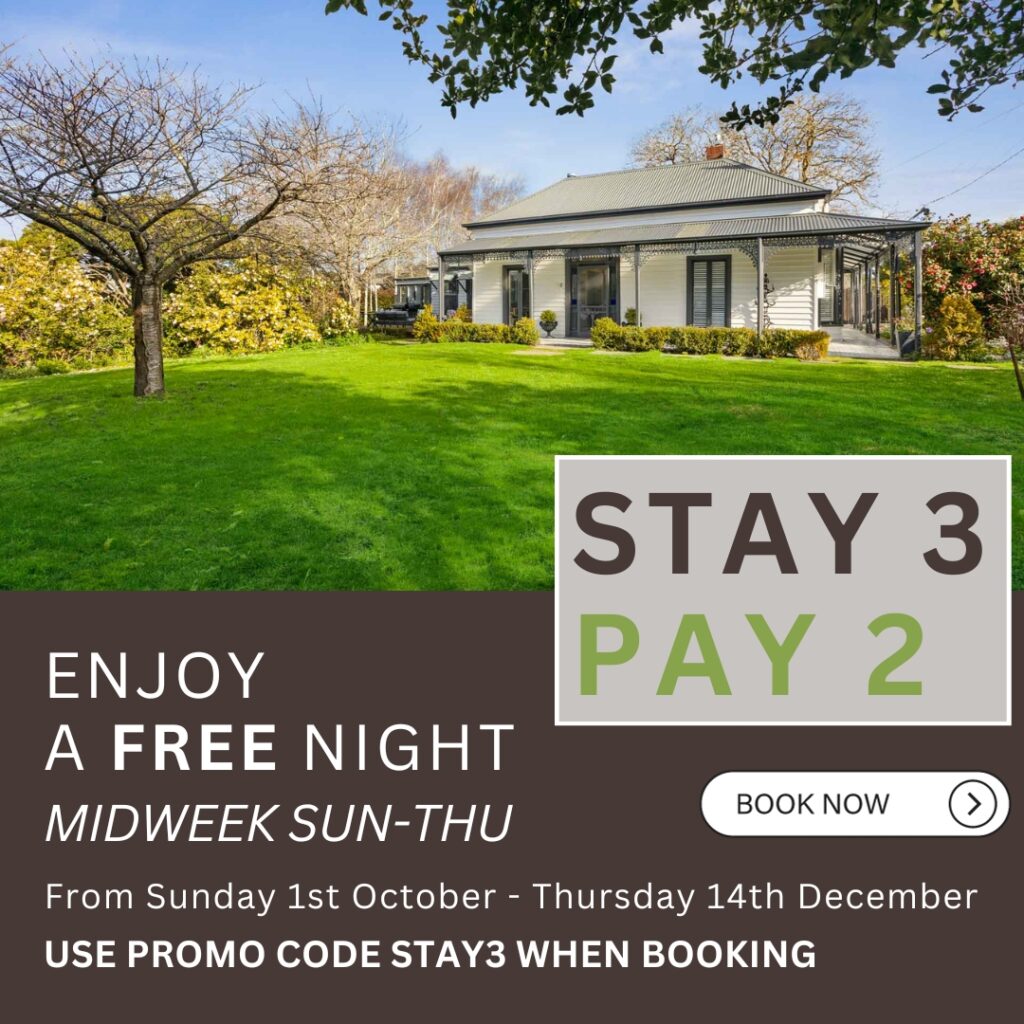 Ready for an incredible deal?
Stay 3 nights, but only pay for 2! That's right, indulge in an extra night of relaxation on us.
Available for midweek stays, Sunday to Thursday nights inclusive, on selected properties until 14th December 2023.
Use Promo Code STAY3 when booking. Don't miss out on this amazing offer! Direct bookings only.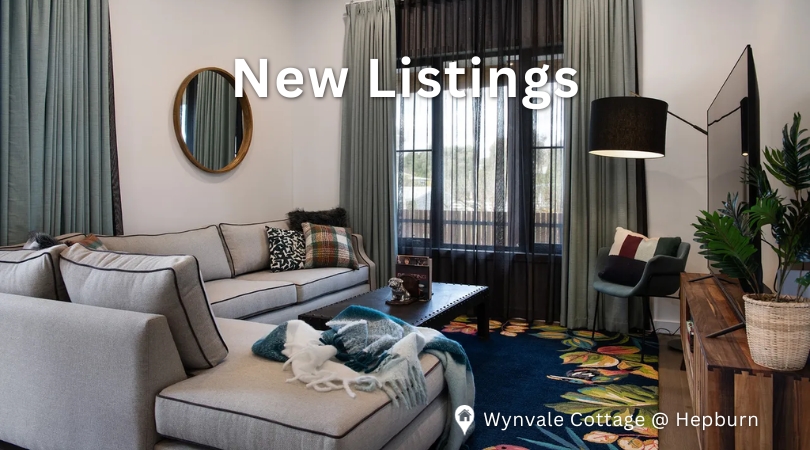 Introducing our newest listings…
Wynvale Cottage @ Hepburn – Featuring an open-plan layout with plenty of natural light, a super comfortable lounge and stunning art adorning the walls. Indulge with three spacious queen bedrooms and a deep soak bath. Perfect for dog owners and just minutes' drive away from the attractions of Hepburn Springs and Daylesford. 3 bedrooms | 2 bathroom | Sleeps 6 🐾
Maison Noire – With its edgy black facade and top-tier furnishings, it offers a unique blend of mid-century flair and post-modern architecture. The master bedroom is a highlight with a double ensuite and freestanding bath. The gourmet open-plan kitchen overlooks the cosy lounge with high gabled ceilings and a fireplace. Plus, you can enjoy a heated plunge pool/spa year-round. All of this is just a short stroll from Daylesford's shopping precinct. 3 bedrooms | 2 bathrooms | Sleeps 6
See all our new listings here >>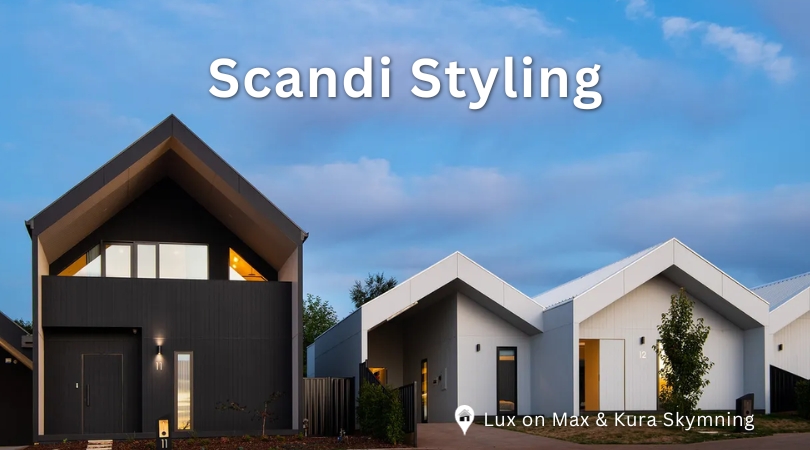 Discover Scandi Elegance – Your Stylish Retreat Awaits!
Experience the essence of Scandinavian hygge* in our Scandi styled properties, nestled in a curated street in Daylesford, where design and craftsmanship unite for an unparalleled sense of luxury and comfort.
*hygge (pronounced "hoo-guh") is a Scandinavian concept that celebrates cosiness, contentment, and the joy of life's simple pleasures. It involves creating warm, inviting spaces, cherishing everyday moments, and finding comfort in the company of loved ones.
See our Scandinavian Collection here >>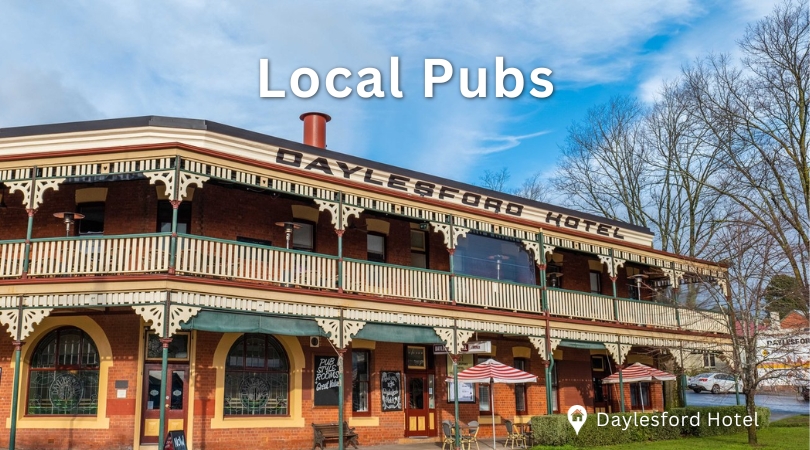 Melbourne Cup at Local Pubs – The Race That Stops the Nation!
Join us for the Melbourne Cup at your favourite local pubs. This iconic event is a day of excitement, fashion, and thrilling racing action. Here's where you can celebrate:
Check availability the Melbourne Cup 'Long Weekend' here >>
Our deposit and cancellation promise

We know times are tight, so we want to help make planning for your next holiday to Daylesford easy and stress-free. For your peace of mind, all direct bookings come with this worry-free guarantee:

No deposit required. At Daylesford Country Retreats we don't take deposits. It's one simple payment taken at 30 days prior to check in.
Fully-flexible bookings. You can change or cancel your booking up to 30 days prior to arrival with no charges.
Book your fully-flexible Daylesford retreat today…
…go on, you deserve it!